Armstrong Redwoods State Reserve
Armstrong Woods Road, Guerneville
Contact: 707-869-2015 or 707-865-2391; e-mail
Follow the many paths through the giant redwoods. Everything from a self-guided tour along a paved path to a rugged hilly hike. Dogs allowed on leash on the road. Small fee for parking inside the park. Parking by Visitor Center is free. Visitor center open daily 11am-3pm.
Berry's Sawmill
Hwy 116, just past Cazadero Hwy, Cazadero
Contact: 707-865-2365
Free, self-guided tour of lumber production. Open Mon-Fri 7:45am-4:30pm; Sat 8am-12pm.
Burke's Canoe Trips
8600 River Road, Forestville
Contact: 707-887-1222
Canoe down the River to a private beach and hitch a ride back with Burke's bus. Kids must be 5 years old; swimmers only. Open daily May-October. Make reservations early.
California Carnivores
2833 Old Gravenstein Hwy, Sebastopol
Contact: 707-824-0433; e-mail
550 insect-eating plants on display, many for sale. Open daily 10am-4pm.
Cazadero Performing Arts Camp
5835 Cazadero Hwy, Cazadero
Contact: 707-632-5159; e-mail
Music, dance, circus, and all sorts of performing learning for both kids and whole families.
Farm Trails
Farm locations all over Sonoma County
Contact: 800-207-9464; e-mail or call 707-571-8288 for map (include your mailing address in message)
Sonoma County is a major agricultural area, and many farms have opened their doors to the public via the Farm Trails organization. Website includes map, detailed listings and descriptions of farms throughout Sonoma County.
Fort Ross
19005 Coast Hwy 1, 12 mi. north of Jenner
Contact: 707-847-3286
State Historic Park highlighting the Russian settlement of Northern California. Attractions include the Visitor Center and Museum, Fort Ross Cemetery, Fort Ross Historic Orchard (must have park assistance to visit), access to Sandy Cove and North Cove beaches and tidepools, and a bookstore well stocked with Russian-American history. Parking $2. Daily summer presentations 11:30am, 1:30pm, 3:30pm. Sept-June presentations Tues, Wed, Fri, Sat, Sun 12pm and 2pm.
Fort Ross website is full of historical and resource information, pictures & historic drawings, study guides & materials, and event listings.
Hallberg Butterfly Gardens
Sebastopol
Contact: 707-823-3420
Butterfly and wildlife sanctuary, featuring rare Pipeline Swallowtail. Tours and slide shows. Open April-Oct, Wed-Sun 10am-4pm, by appointment.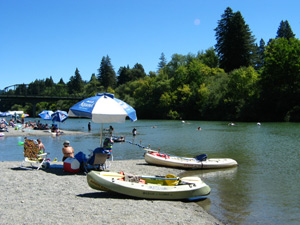 Johnson's Beach
Off 1st Street at Church St. in downtown Guerneville
Contact: 707-869-2022
This blast from the past offers food, drink and beer, as well as innertubes, kayaks, canoes, paddleboats, and beach umbrellas at great prices. There's a roped-off, shallow lagoon for the little ones, and deeper water for swimming and boating. Real bathrooms and changing rooms. A great place for family and friends to while away those vacation hours. Beach open daily Memorial Day into October (while the dams are in) 10am-6pm. Check out this great review of Johnson's Beach. There is paid parking close to the beach and no dogs are allowed.
Luther Burbank's Gold Ridge Experiment Farm
7781 Bodega Avenue, Sebastopol
Contact: 707-829-6711
Docent (Apr-Oct) or self-guided tours of National Historic Landmark cottage and farm. Burbank's plant and fruit creations for sale. From website, download a docent handbook and check out the calendar of events.
Luther Burbank Home & Gardens
Intersection of Santa Rosa Avenue and Sonoma Avenue, Santa Rosa
Contact: 707-524-5445; e-mail
Visit the fascinating home and gardens of one of the world's most famous horticulturists and creator of many new species of plants. Gardens are open to the public at no charge year round daily 8am to dusk. Buildings, including home and gift shop, are open Tues-Sun 10am-4pm. Drop-in tours run Tues-Sun 10am-3:30pm and cost $3 for anyone 13+. Website has lots of info and study guides. Schedule of free events includes Garden Tales (songs and stories for young gardeners and their grown ups) during the summer, Fall Plant Sale in September, and a Holiday Open House in December.
Luther Burbank Virtual Museum
Check out this extensive photo tour of all things Luther Burbank.
Monte Rio Beach
Bohemian Hwy & Hwy 116, turn right just before heading over the Monte Rio Bridge, Monte Rio
Public beach with boat access, volley ball & horseshoe courts. Rent canoes, kayaks, tubes, umbrellas and chairs. Concessions include standard American fare. Real bathrooms. Dogs permitted on down river side of the bridge. Free parking.
Pacific Coast Air Museum
2330 Airport Blvd., Santa Rosa
Contact: 707-575-7900
Museum and air shows; history and workings of aviation. Open Tues & Th 10am-2pm; Sat & Sun 10am-4pm. Terrific Wings over Wine Country air show every August.
Pee Wee Golf and Arcade
Contact: 707-869-9321
Drake Road, just off Hwy 116 south of the Guerneville Bridge, Guerneville
Newly remodeled and looking sharp! Even kids as young as three can make a hole-in-one. Teenagers often hang out here in the evenings. Two 18 hole courses, video arcade, pool tables and refreshments. Open 11 to 11 summer until Labor Day weekend, and weekends in spring and in September. Generally closed October 1 until Easter, but it doesn't hurt to call. Also will host private parties. Look for the purple T-Rex.
Pool & Snack Bar
Canyon Two Road just off River Road, Rio Nido
Nice pool, volleyball courts, video arcade, picnic tables, snack bar. Open to public Memorial Day through Labor Day; daily 11:30am-5:30pm. Reasonable day use fee.
Redwood Empire Ice Arena
1667 W. Steele Lane, Santa Rosa (west side)
Contact: 707-546-7147
Spectacular Swiss chalet motif ice skating rink owned by the late Charles M. Schultz of "Peanuts" fame. This classy place is a blast for kids of all ages. It's fun any time of year but in the summer, it can be a great way to cool down. They also host ice shows (including the Christmas Ice Skating Show in December) and competitive skating. Check out the schedule on their website or call. The gift shop features much "Peanuts" memorabilia and a small museum upstairs.
Russian River Adventures
20 Healdsburg Avenue, Healdsburg
Contact: 707-433-5599
Enjoy exclusive day trips down an uncrowded stretch of the Russian River in a canoe that is nearly impossible to tip, although you should be able to swim just in case! Upon request, they will provide a delicious gourmet meal, snacks and drinks. Shuttle takes you back to your car at the end. What a way to see an unspoiled, undeveloped section of the river!
Safari West Wildlife Preserve
3115 Porter Creek Road, Santa Rosa
Contact: 707-579-2551; e-mail
Reservations are required for a tour of this incredible 240-acre African wildlife preserve. 2 ½ - 3 hour tours guided by naturalist:
March 10 - November 3: daily at 9am, 12noon, and 3pm;
November 4 - March 9: daily at 10am and 2pm.
$62/adult, $28/kids 3-14. Group and custom tours by special arrangement.

Seal Watch at Goat Rock Beach
Hwy 1, just south of Jenner
Contact: 707-874-3987
Visit March through early September to see pups. The beach is there year round. There's also a great Indian restaurant on the way to (or from) the beach called the Sizzling Tandoor that's definitely worth checking out.
Sonoma Canopy Tours
1-888-494-7868 / 6250 Bohemian Highway, Occidental, CA 95465 / E-Mail
Enjoy their unique course that features a zipline over 800 feet long. Walk sky bridges high in the air. Marvel at panoramic forest views and deep ravines. Discover the world-famous California Coastal Redwoods in a way you never imagined. It's high adventure that's green, family-friendly and educational.
West County Museum
261 South Main Street, Sebastopol
Contact: 707-829-6711;
Museum and historical reference room. Open Thurs-Sun 1-4pm.
Movie Rental
redbox® at the Guerneville Safeway
16405 Hwy 116, Guerneville, CA 95446